Wildlife impacts on airports and aircraft can have a direct effect on sustainability and safety. Attracted to an airport because of food, water, or a desirable habitat, wildlife can create significant hazards for pilots and airport operations. According to the FAA, wildlife is attracted to waste disposal operations such as landfills, stormwater management ponds, drainage channels, wetlands, golf courses, and agricultural activities. Moreover, birds and mammals striking aircraft during take-off, landing, or in flight cause millions of dollars in damages annually and threaten lives. Airport sponsors and managers are federally obligated to ensure a safe operating environment. It is the airport's goal to make their property as unattractive to wildlife as possible by removing food, water, and shelter. Reducing the amount of wildlife on and near an airport greatly reduces the chance of wildlife colliding with aircraft.
The Federal Aviation Administration is placing a high value on reducing the impacts of wildlife with the National Airspace System. Many GA airports will be mandated in the future to have detailed mitigation plans in place to ensure aircraft safety. This may come in the form of a Wildlife Hazard Assessment and Management Plan by a certified wildlife biologist. An assessment will identify the wildlife present, including seasonal wildlife, and a management plan will detail how best to remove the hazard.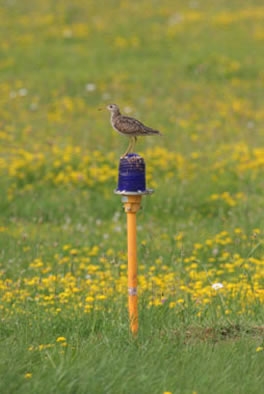 The removal of the attractant may solve a wildlife problem, yet some destructive animals may be adaptable to habitat modifications. Auditory and visual frightening devices can be effective in controlling wildlife but must be alternated on a regular basis. Falcons and dogs can be trained to frighten creatures away, and traps can be set to capture and relocate animals. Sometimes, extermination, which requires U.S. Fish and Wildlife approval or a federal permit, is the best option to eliminate the potential of strikes. Applicable federal, state, and local laws should be reviewed prior to any removal or handling of any wildlife species.
Resources, such as the materials produced by the System Plan, are designed to assist airport staff and policy officials to properly mitigate wildlife impacts.

Resource tools available online and in print.
Airports and Wildlife; a Guide for the Public is designed to be a guide for the public on the importance of mitigating wildlife at airports. This brochure explains why wildlife is a major concern to airports, how the airports mitigate wildlife, and provides resources on federal and state regulations as well as how the public can help.
Airport Wildlife Handbook is designed to be a quick reference field guide for airport operators. This handbook has information on the regional wildlife, mitigation techniques, regulations, and commonly used resources and contact information.