Inventory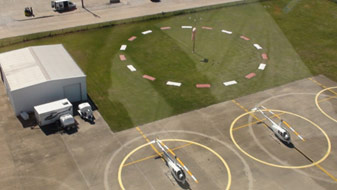 A significant component of the North Central Texas General Aviation and Heliport System Plan (System Plan) analyzes vertical flight (VF) needs in the region and discusses the need for new facilities to meet future demand. Heliports can be located almost anywhere, and at the time of this study, North Central Texas had 141 FAA registered heliports.
North Central Texas has experienced significant growth in population and employment throughout the last decade. Even with the economic uncertainty in the past three years, the North Central Texas Council of Government's (NCTCOG) long-term demographic projections for population, employment, and per capita income indicate a steady growth through 2035. This may positively impact vertical flight activity.
Vertical flight activity is typically generated by helicopters based in the area for most of the year. The activity boundary is limited by the average range of a helicopter, approximately 100 to 150 miles, and rarely involves travel between major metropolitan areas. There are approximately 446 helicopters based here.
Helicopters have a high annual utilization rate (hours flown per year), particularly when compared to most fixed-wing aircraft. This is consistent with the need to amortize operating costs. Helicopter operators often serve multiple missions, divided between public agencies and private companies including municipal, county, and federal police agencies.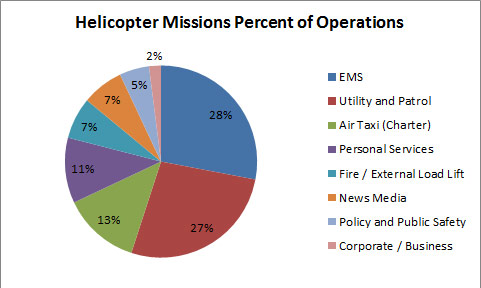 Facility Classifications
A significant amount of helicopter activity takes place at airports; yet dedicated helicopter facilities benefit the airspace system. Due to the unique operating characteristics of helicopters, they are usually assigned to routes away from those of fixed-wing aircraft. Simultaneous coordination at an airport often creates a greater work load for air traffic controllers, thus reducing an airport's capacity. Helicopter facilities can relieve an airport's demand for capacity by dispersing joint rotorcraft and fixed-wing activity.
As part of the System Plan Inventory process, VF facilities were classified by type of use and business. Only Federal Aviation Administration (FAA) registered vertical flight facilities were accounted for in the inventory. While all facilities should be registered with the FAA, some facilities located on airports were not counted separately and/or are not registered with the FAA.
Vertical Flight Facility Classifications: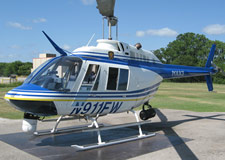 Public Safety/Forest Service (PS) – Publicly owned heliports primarily established for use by municipal and police, fire, security agencies, transportation authorities, highway patrol, homeland security, state and federal agencies such as fish and wildlife management, park patrol, forestry management, and the military.
There are seven such facilities in North Central Texas. The City of Dallas and the City of Fort Worth operate police patrol helicopters as backup to ground operations and first responders to incidents within their patrol areas. The Texas Department of Public Safety (DPS) patrols North Central Texas outside of the urban areas. The transportation of special teams and high security needs associated with weapons and surveillance gear demand close control of these facilities. Evergreen Helicopter, 5-States, and the U.S. Forest Service are also heliport customers.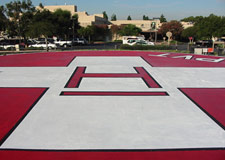 Emergency Medical Service (RX) – Private-use facilities designed for local Emergency Medical Service (EMS) helicopter providers located at or near medical centers, hospital emergency rooms, and regional trauma centers. Hospital heliports are essential elements of the air service facility system.
North Central Texas has more than 50 facility heliports including sport stadiums, universities, racetracks, marinas, and rural medical facility landing areas. Rapid transfer for emergency care saves lives. Rush hour traffic gridlock, travel distances, and difficult ambulance movements from rural locations stimulate the rapid expansion of EMS helicopters. Among these providers are Careflite, Air Evac, Helinet, and PHI.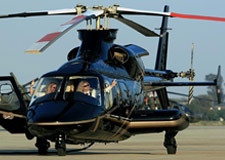 Corporate/Business (CP) – Private-use heliports designed and prepared for use by businesses and transportation of business executives. Corporations typically own these facilities to support their own transportation and security needs. Frequently these heliports serve dual purposes in providing emergency access. Over 30 facilities of this kind are documented in North Central Texas. Among the business operators in North Central Texas are EDS, Frito Lays, Omniflight, and CFS Air.
Transport/Commuter (TR) – Public-use heliports for the use of private, commercial, and public commuter helicopters operators with prior permission and on a space available basis. Air Center Helicopters, Epic Helicopters, Sky Helicopters, Quality Aircraft, Longhorn Helicopters, and North Texas Helicopters are among the providers of corporate transportation in North Central Texas.
Three public-use, free-standing heliports are identified in North Central Texas; however, others are delineated on layout plans of public airports. The City of Dallas incorporates a vertiport in its central business district designed to accommodate Vertical Take-Off and Landing (VTOL) aircraft. The City of Garland has also established a public-use, publicly owned heliport for public safety and corporate users.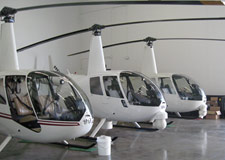 News Media/Broadcast (NW) – Private-use heliports accommodate helicopter news media, traffic patrols, and other media events sponsors. There are multiple trips each day to respond to breaking news by transporting media personnel and photographers to locations. Additionally, public dignitaries, celebrities, and officials are frequently shuttled to and from these heliports. Four facilities are dedicated to news media in the region. Sky Helicopters, Fox 4, and A.H. Belo are the operators for the regional broadcasts.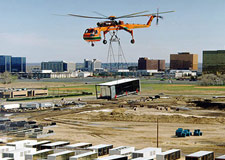 Utility/Pipeline Patrol (UT) – Electric, water, gas, and telecommunications facilities are supported by helicopter use. These facilities may serve as a base for patrol or direct support of utility projects, equipment, and personnel movement. Rapid response to repairs and the need to transport equipment and personnel is significantly improved by utilizing helicopters. Three facilities serve utility companies in North Central Texas. TXU, Chesapeake, ATMOS, and XTO are users of utility helicopters.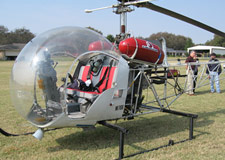 Agricultural/Instructional/Personal (AG) – Heliports designated to support of flight instruction and agricultural operations such as crop dusting and personal use are typically privately-owned and operated facilities, frequently established by an individual owner. These heliports are often established on grass or unpaved areas near homes or on ranches for convenient access. There are over 30 facilities used for personal or agricultural purposes in North Central Texas. Eurocopter and Bell Helicopter are two major manufacturers that also provide on-site training. Numerous private flight schools within the region and over 200 individuals own helicopters.
Regional Impacts on Vertical Flight
Fluctuations in helicopter operations can be affected by many factors, including traffic congestion, airspace, and aviation infrastructure limitations. As helicopters serve a wide array of missions for commercial, private, governmental, and military uses, their activity is not directly influenced by one factor more than another. Public agency helicopters are not directly affected by the state and federal economies unlike corporate/air taxi, training, personal, and utility operators are.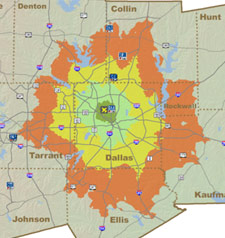 Region-wide congestion and highway capacity
Large sections of the highway system have moderate to severe highway congestion and increasing delays in the region's highways networks which stimulate the use of helicopters.
Availability of off-airport landing sites
Off-airport landing sites, such as parking lots, rooftops, or open fields, are crucial to the vitality of the rotorcraft industry, due to the nature of helicopter operations being quick convenient transport over short distances. Off-airport landing sites should be available to ensure that operators can provide a high level of service to customers and to meet service/mission requirements.
Airspace and airport access restrictions
Temporary Flight Restrictions (TFR) and Special Federal Aviation Regulations can impact overall aircraft operations. Since the early 2000s, FAA has developed more stringent safety restrictions on the national airspace, in turn impacting the accessibility of navigable airspace and the nature of the aviation industry. As a result, long-term and permanent federal restrictions on airspace and zoning ordinances can also restrict local regional rotorcraft growth and activity.
Financial impacts of insurance and vertical flight technology
While business aviation's safety record in 2010 was good, losses rose significantly for airlines. Circumstances such as these can affect rates for general aviation (GA) as both sectors are likely covered by the same companies and reinsurers. Additional impacts on the industry are operating costs of aircraft, including helicopters. This could remain a long-term issue until more efficient operations can be realized through new technologies, such as alternative fuels and the Next Generation Air Transportation system (NextGen).
As FAA continues to develop air and ground infrastructure for NextGen, helicopters are expected to utilize Wide Area Augmentation Systems (WAAS) to perform all-weather landings based on real-time differential correction of Global Positioning System (GPS) signals. According to FAA, WAAS will bring several benefits to vertical flight operations such as:
Precision-like approaches, including vertical guidance, without the installation of expense infrastructure.
Better options for alternate landing facilities.
More direct routes.
The FAA is currently coordinating with the aviation industry to advance the progression and development of WAAS technology so the helicopter sector can take advantage of its new capabilities and benefits to rotorcraft air navigation. Specifically, in North Central Texas, the FAA is working with the EMS provider CareFlite to develop low Instrumental Flight Rule (IFR) routes as a result of the industry development of GPS-based precision approach procedures. Once integrated in the airspace system, WAAS will increase the utility and service roles of the VF industry.
VF Activity Forecasts
Due to difficulty in predicting the impacts of factors discussed above, three VF forecast scenarios, baseline, low, and high were analyzed. The goal of this exercise is to predict the future of helicopter activity. Each scenario assumes a growth rate based on the FAA National Forecasts. Results of this forecasting show a similar correlation between the baseline and low forecast scenarios; the baseline forecast projects slightly higher registered rotorcraft and operations than the low. As expected, the high forecast scenario predicts registered rotorcraft and operations will more than double over the life of the forecast.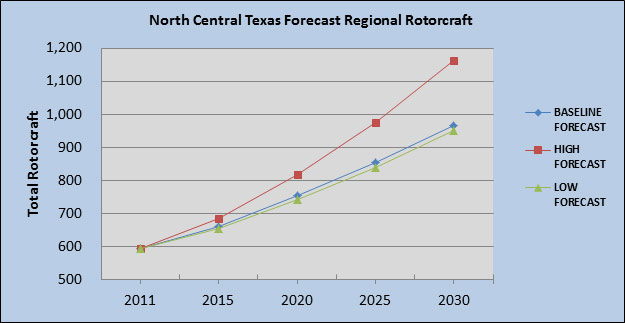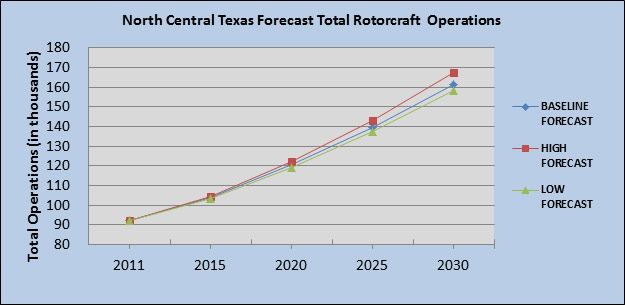 Vertical Flight Recommendations
Vertical flight is an important component of the System Plan, based on its public and private uses for emergency medical services, public safety, special events and news coverage. The number of hours and aircraft flown regionally is expected to increase significantly in future years. Considering the anticipated population growth and exponentially increasing traffic on area roadways, the following recommendations are made: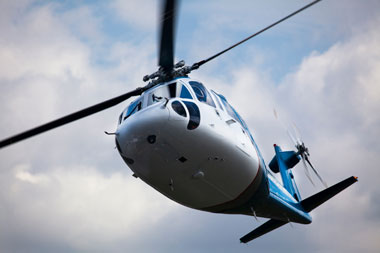 Hospitals with trauma centers should consider constructing a heliport, and new facilities should consider incorporating one into their plans.
Other public entities and businesses which use helicopters should provide their facilities to EMS during disasters.
Helipads near or at special event venues should provide transportation to and from the activities. Additional details about VF during special events may be found in the Special Events report.
Air taxis should move more and more people to and from special events in the future.
Police and fire departments should increase their efficiencies by purchasing new aircraft and training pilots.
Public safety organizations should consider operating out of existing facilities for quick mobilization.
Heliports and helipads should consider providing fuel stations for public or private use.
VF should be supported by educating the public about its use in public safety and EMS activities.
All VF facilities should be registered with the FAA and adhere to the National Fire Protection Agency.
Local land-use ordinances should protect the airspace surround VF facilities.