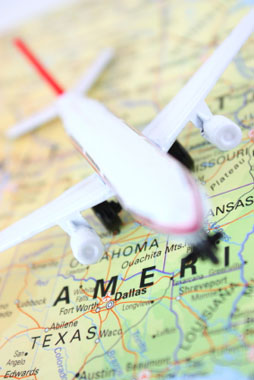 North Central Texas has approximately 400 aviation facilities within the approximate 15,700 square-mile area. An inventory of aviation facilities was conducted as an early element of the System Plan. While the data was not analyzed individually, it was collectively used in other study tasks as a resource or analysis. Considerable data was available, though most of it was not centrally located. This research included site visits, attendance at aviation-related conferences, research and data collection, development of a categorization process, and GIS mapping. A significant effort was undertaken to collect additional data and improve the existing data sets.
Additionally, this data provides a baseline accounting of the regional system and can be monitored in the future through measures utilized by NCTCOG to monitor the performance of the region's transportation system. Reports like the annual "Progress North Texas" offer insight into how North Central Texas' transportation system is operating to provide seamless regional connectivity. Emphasizing GA will be a key addition to the commercial activities already being tracked. The System Plan recommends the following performance measures:
Annual Aircraft Operations
Based Aircraft by Type
Number of Towered Airports
Total Runway Length by Type
Existing Economic Impact
Existing Community Value
System Plan Designation
Area within the 60 Minutes Travel Contours for Reliever Airports
Annual Aviation Funding from TxDOT
Initially, the inventory effort determined that a total of 383 landing facilities were in the study area; in August 2011, there were 413. Over the course of the study, the overall number of facilities fluctuated based on facilities closing, opening, or becoming registered with the FAA; no new publicly-owned facilities were constructed. Additionally, several more privately-owned facilities became open for public use towards the end of the study.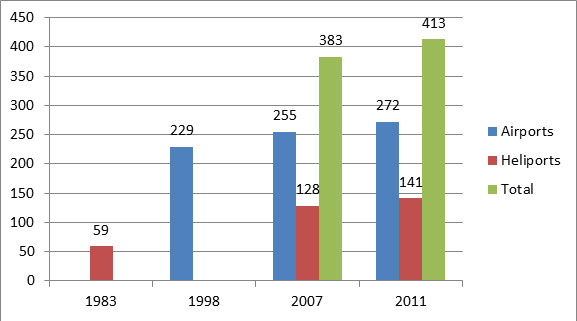 While every airport was considered, not every airport was included in the System Plan's detailed analysis. The focus is on airports open to the public that are included in NPIAS, and may use public funding to adhere to FAA design and safety standards. Detailed characterization allows for forecasts and recommendations to be provided on a subregional level. Categories are based primarily on runway length, which suggests the type of activity that can be conducted at the facility. These categories provide guidelines for the infrastructure that should exist for operations.
Category 1 - Small turf or paved airports with maximum 3,500 foot runway length. No instrument approach or weather reporting capability required.
Category 2 - Smaller facilities with runway systems with 3,501' to 5,000' runway length and non-precision instrument approach capability. No weather reporting capability required.
Category 3 - Airports with 5,001' to 6,000' runway systems able to accommodate most propeller types of aircraft with non-precision instrument approach capability and weather observation stations.
Category 4 - Large, mostly air carrier facilities with jet capable runway systems. Minimum 6,001 foot runway length, precision instrument approach, weather observation stations, etc.
Airports in Subregions by Category
Subregion
North
2
5
1
4
South
0
3
4
1
East
2
2
1
1
West
2
3
1
0
Central
1
1
1
4