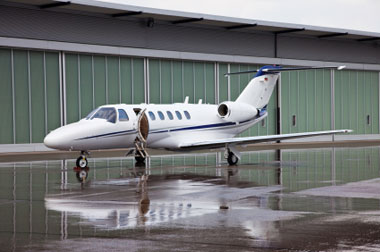 NCTairportdata.com was developed to organize and collect airport system related data in a centralized and easy to use online repository. This information system interfaces seamlessly with existing databases maintained by other agencies and provides a "one-stop-shop" for users of aviation facility data in North Central Texas. The site has multiple interfaces that display data in varying ways for multiple types of users. Airport staff have the ability to upload documents, share information, and analyze airport trends. Users are able to access statistics for the entire airport system and each airport using FAA data, based aircraft counts, and other data sources. Airport Sponsors are able to see selected airport average growth, activity as a percent of the total system, and growth compared to the rest of the system.
Available data includes: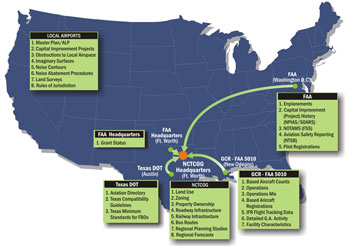 Aviation Related News Feeds
Airport Master Record Data (5010)

Based Aircraft Counts
Aircraft Operations
Facility Requirements

Terminal Area Forecasts

Aircraft Operational History and Forecast
Based Aircraft History and Forecast
Enplanement History (if applicable)

Instrument Flight Rules (IFR) Flight Data

Live IFR Aircraft Tracking
Historical IFR Flight Plan Reports

Planning Documents and Information

Grant History
Regulatory Documents (e.g., Compatibility Guidelines, Minimum Standards)
Reference Materials (e.g., Aerial, Economic Impact, Notice to Airmen (NOTAMS)
Mapping Documents (e.g., (Airport Layout Plan (ALP), Parcel, Zoning, Land Use)
IFR Flight Tracking allows users to view arriving and departing aircraft with detailed information from an airport. The database also provides seamless access to www.dfwmaps.com, an online GIS mapping tool provided by the North Central Texas Council of Governments (NCTCOG) which uses area maps to show regional information such as municipal boundaries, environmental features, census data, transportation infrastructure and planned improvements, and weather.